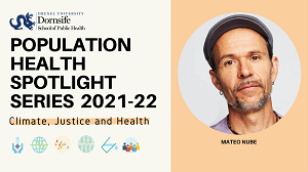 The Dean's Office invites DSPH students to attend a student round table discussion with the upcoming Population Health Spotlight speaker: Mr. Mateo Nube, Climate Justice Alliance. Learn more about Mr. Nube.
The student roundtable discussion will occur on Wednesday, March 2, 2022, from 12:00PM-12:45PM EST via Zoom.
If you are interested in attending, please send an RSVP email to Dayana Marshall. Although this time may conflict with some classes, students are welcome to attend per their availability.
Please ensure you receive a confirmation response from Dayana Marshall to guarantee your attendance. This event is available on a first come, first serve basis.
Additionally, the larger lecture, open to all, will be held on the same date from 2:00-3:00PM. Students are encouraged to attend the lecture, even if they are not able to attend the smaller group discussion.