Join on Saturday, January 22nd from 9:00AM-1:00PM EST via Zoom!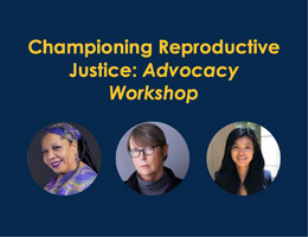 Interested in learning more about health-related social justice advocacy? Want to understand how domestic health issues are also global? Join the inaugural health and human rights advocacy workshop!
This year's theme is "championing reproductive justice." We will be joined by US and global experts on advocacy and reproductive health. The workshop will consist of a keynote speech and informational lectures, followed by an interactive session working through a case study on access to reproductive health services.
Keynote speech by Dázon Dixon Diallo, Founder and President, SisterLove, Inc., with facilitation by Megan McLemore, Health and human rights expert (former Human Rights Watch) and Nina Sun, Deputy Director, Global Health and Assistant Clinical Professor, Community Health and Prevention (Facilitator).
This event is co-sponsored by the Office of Global Health at the Dornsife School of Public Health, Drexel University Thomas R. Kline School of Law, The Ubuntu Center on Racism, Global Movements, and Population Health Equity at Dornsife, and the Maternal and Child Health Program at Dornsife.