If you want a dish that's creamy, sweet, and warm, try making Thai Curry! These are easy, quick versions to try at home and can easily be made Vegan or Vegetarian by substituting meat with tofu, chickpeas, or extra vegetables.
Panang Curry: (mild) The sweetest of the curries, Panang curry is a thicker mixture of lemongrass, shallots, spices, galangal, kaffir lime, and red chilies. It's also often paired with crushed peanuts to add a nutty flavor. *If you have peanut allergies, double check the paste ingredients, but most likely the paste is peanut free*
Red Curry: (mild – moderate) Similar to Panang curry, Red curry is sweet, but has a slightly spicier and sour flavor profile.
Green Curry: (moderate – hot) This curry has a spicier, stronger herby flavor with hints of sweetness from the cilantro, green chilies, and kaffir.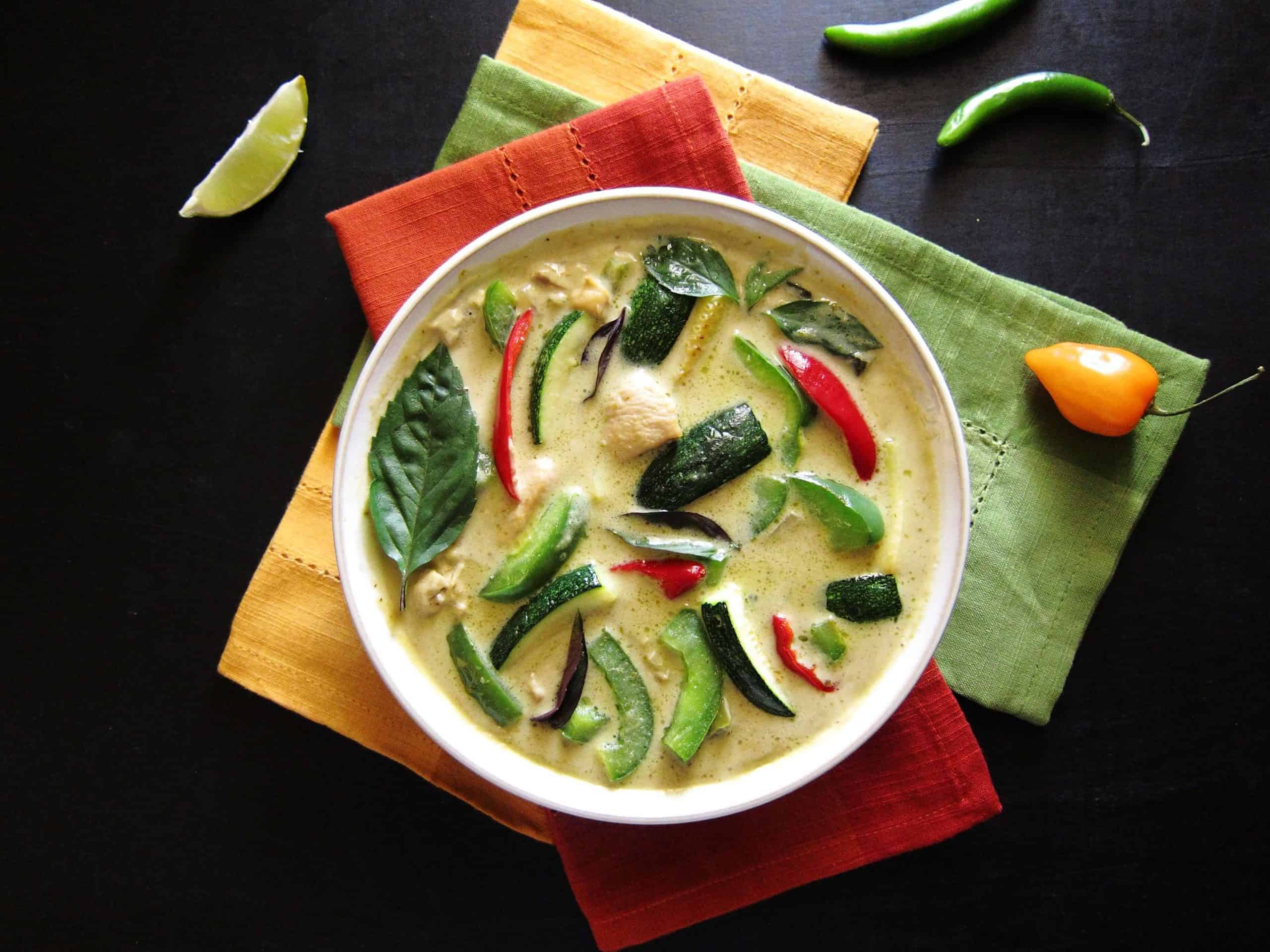 Where to Get Pastes: When working at a Thai restaurant, I saw the chefs used the curry paste brand (Maesri) which can be found on Amazon and select stores. Alternatively, Thai Kitchen Curry tastes similar and is more easily found at stores like Target and Acme.
Prep time: 25-30 minutes
Cooking Instructions: (1) Boil noodles or cook rice beforehand if preferred (2) Cut your vegetables and / or protein (3) If using meat, pre cook the meat in a pot until fully cooked and then add your paste and stir for 1 minute. If using tofu, you can instead heat the paste in oil for 1 minute (4) After the paste has cooked, add one can of coconut milk. If using tofu or chickpeas, add directly after the coconut milk. Allow the mixture to bubble on medium heat for 10 minutes. (5) Add vegetables for the last 5 minutes and serve with rice or noodles on the side. Spinach or Kale can be added in the last 3 minutes because they cook very quickly. (6) Top with crushed peanuts if you have Panang curry
Examples of Ingredients:
Canola or Vegetable Oil – 1 tablespoon
Paste – 2 or 3 tablespoons
Coconut Milk – 1 Can
Protein – Chicken, Tofu, Shrimp, Beef, Chickpeas (can)
Crushed Peanuts – for Panang
Vegetables – Red Peppers, Spinach, Green Beans, Broccoli, Zucchini, Peas, Potatoes, Spinach, Kale
Grain – Rice noodles, Rice
Note on Spice: To increase spiciness, add chili flakes or cayenne pepper after the curry is finished. Add incrementally (a pinch), stir, and taste each time until you reach your preferred spice level. If you want a similar spice taste to what Thai restaurants add, try Prik Bon, which is a powdered Thai chili that can be found on Amazon too. To avoid spiciness, opt for Panang Curry paste.