Before bracing yourself for the long lines at the local supermarket or waiting for an open delivery time, make sure you have a shopping list to avoid buying things that you really don't need. Forget about stockpiling on instant noodles and frozen dinners and look at what you already have on hand. Below are some items to use as a starting point for your shopping list, but keep in mind you should be buying foods or drinks you would normally consume!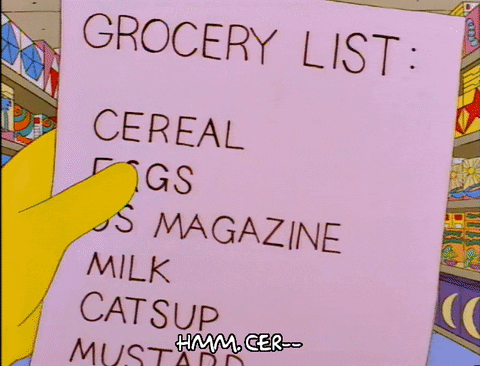 Grains
Pasta (i.e Macaroni)
Rice (i.e. White, brown, medium-grain, short-grain)
Bread
Ancient grains (i.e. Quinoa, farro, barely)
Legumes
Lentils
Beans (i.e. Chickpeas, kidney beans, black beans)
Vegetables & Fruits
Canned vegetables/fruit
Frozen vegetables/fruit
Dried fruit
Long-lasting fresh fruit (i.e. Apples, oranges, lemons)
Long-lasting fresh vegetables (i.e. potatoes, sweet potatoes, carrots, onions, garlic, ginger)
Protein
Poultry (i.e. Chicken or turkey)
Seafood (i.e. Frozen salmon)
Beef
Pork
Tofu (i.e. Silken, soft, firm, extra firm)
Tempeh
Seitan
Eggs
Nuts (i.e. Pistachios, almonds, cashews)
Dairy
Shelf-stable boxes of milk
Shelf-stable boxes of non-dairy milk (i.e. Almond milk, oat milk)
Hard cheeses (i.e. Parmesan or pecorino)
Pantry Items
Spices (i.e. Cumin, bay leaves, paprika)
Salt & Pepper
Oil (i.e. Vegetable, coconut, olive, avocado)
Spreads (i.e. Chocolate, peanut butter, nut butter, maple butter)
Flour
Sugar
Broth (i.e. Vegetable, chicken, beef)
Happy Items
Ice cream
Snacks
Chocolate
Candy
Anything that can make your day a little better!